Yooooow!
Exo's comeback?! Really?! Wowowowow! Can't wait for it! I'm crave for their new song! Haha.
Hari tu dkt twitter aku ada perasan ada yang kata EXO's Comeback semalam. 20March! Tapi takde apa pun yang berlaku. Hahahahaha. Rumor semata-mata x3 Ramai jugaklah yang bengang x3 So, date of EXO's Comeback still not confirm yet! Haha. We just wait n seeeeeeeee!
Butttttttttttttttttttttttt!
There's a fangirl had asked Jordan Kyle (Growl and Don't Go producer) about EXO's comeback and ITS REALLY SOON!! Haha
I heard that this comeback they prepare the EXO's version of BAD BOY! Wowowowow! Hahahhaha. How bad it is? x3 Even their wolf version pun look so cute, how can they looks like a bad boy?! Hihi x3
There's someone also said that KRIS in this new comeback album look super handsome?! Hahahhaha. Tak sabar nak tengok! x3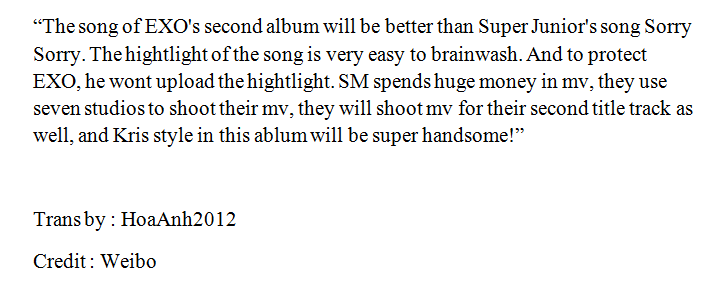 In this new album! I really hope that my bias! XIUMIN will get more part to sing! His voice is sooooo good! I'm really in love with his voice! Haha >< Please SM Entertainmentttttt! Give Xiumin more lyrics to sing! N also the others who didn't get more part to sing in their past song. And also change the center of attention. Haha, I mean change KAI place with LAY or SEHUN ;) Can arh? Can arh? Hahahhahaha. Hope soooooo ><
Hah! Once more! This is our message to EXO!
제발! Take care of yourself and stay healthy! Don't be sick and work hard without rest just for your fans! Yes! We want you guys to comeback soon, but it doesn't mean we want you guys to hurt yourself too! 제발! EXO FIGHTING! ><
Aku tulis macam-macam pun macam dyorang tau je xD Nvermindlah! I just say my opinion and what I want to say! ;) Hihi. *Sorry kalau english aku berterabur* *Still learning* Hehe
Okeylah! Byeeeeeeeeeee!
EXO SARANGHAJA! ❤️